FAQ's
A question? Any doubts about the use of your Hip'Guard? For optimal use of your airbag, see our FAQs.
What is a hip fracture?
A hip fracture is not actually a fracture of the pelvis, but most commonly a fracture of the upper portion of the thigh bone. This typically happens in three main areas: the femoral head and neck, the greater and lesser trochanters, or the subtrochanteric region.
The hip fracture of an elderly person is a very serious event. 1 in 4 older adults die within the year which follows a hip fracture (50% of them within three months). 2 in 4 older adults never recover their initial autonomy and independence resulting in social isolation, lack of confidence and fear of falling, highly dependence of others' help and some cannot remain in their own home
Women experience three-quarters of all hip fractures because of osteoporosis and the risk of re-fracturing is very high (20% experience a new hip fracture within 5 years).
In most cases, patients who suffer from a hip fracture are operated as soon as possible and the fractured bone is replaced with a prosthesis. Rehabilitation must be carried out quickly after the operation, for a duration of 3 months to 1 year. The patient must regain mobility as soon as possible for a better recovery
How common are hip fractures?
As we get older, the chances of falling and breaking a hip increase.
90 % of all hip fractures are caused by falls.
With age, bones get weaker. Osteoporosis is more common in the elderly, and more so in women. The disease causes bones to become weak and brittle and new bone isn't produced as quickly as older bone tissue is removed. Osteoporosis-related breaks are among the most common types of hip fractures, as bone fractures can occur easily with any type of fall.
Moreover, muscle density and mass tend to decrease with age. Older patients with reduced muscle mass are more at risk of falling due to mobility and balance issues and, subsequently, get more insecure with all their movements
One in three senior citizens (above 65 years) falls every year. More than 85% of hip fractures occur in people older than 65.
I have had my hip(s) replaced, so why would I need Hip'Guard?
The metal in a hip implant is much stronger than the surrounding bone; those who fall and have had a hip replacement are actually at more risk of subsequent hip fracture at areas close to the site of where the implant is attached to the bone.
Does Hip'Guard require a medical device CE marking or an FDA approval?
No, Hip'Guard is Personal Protection Equipment (similarly to helmets or protection gloves). It does not claim to diagnose, treat, mitigate, prevent or cure a disease, but rather to protect the hip by reducing the impact of the fall.
Is Hip'Guard comfortable? Is it heavy?
Hip'Guard has been designed with care givers, nursing staff, and older adults.
We worked on the shape, fit, and features, in order to make it as comfortable and discreet as possible.
A majority of users find it comfortable and like its aesthetics.
Hip'Guard weighs around 750g. Its weight is very well tolerated by older users.
Don't most hips break even before a fall because of osteoporosis?
While this does happen in rare situations, it is almost never the case. Multiple studies have confirmed that up to 96% of hip fractures occur due to a fall from standing height. (Source: Parker, M. T. (1997) Spontaneous Hip Fracture. Acta Orthopaedica Scandinavica, 68 (4): 325 – 326)
When and where should a person wear Hip'Guard?
Hip'Guard should preferably be worn 24h a day as a hip protector only work when worn. Fall incidences can happen at all times, also during night time when a person for example have to go to the bathroom.
Will deployment of Hip'Guard belt cause any additional injuries?
Hip'Guard was designed to be worn on the body. Helite has an extensive experience in this domain, and has been designing and marketing airbag personal protection equipment and garments for more than 20 years. In-house and independent bodies testings have shown that Hip'Guard safely reduces impact at the hip.
Does Hip'Guard come in different sizes?
Yes, Hip'Guard comes in 5 sizes (from size S to 2XL) which cover the majority of the older population. You just need to measure your waist line and follow the size chart.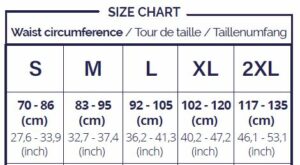 How effective is airbag hip protection?
• Researchers at Virginia Tech compared the reduction in the force of the impact of a fall between airbag hip protectors and conventional hip protectors. Only the airbag protections kept the force of the impact below the recognized hip fracture threshold of 3100 N*, by reducing the impact by 85%**.
Hip'Guard's specifically designed horseshoe shape of the airbag protects the femoral neck, by isolating it and dispersing the force of the away from the bone to the soft tissues surrounding it. This design allows a better shock absorption and reduces the force of the impact by up to 90%. This result has been certified by an independent body.
• The efficacy of Hip'Guard's sophisticated algorithm has been tested and certified by the prestigious French University of Grenoble-Alpes. The UGA tested a total of 828 falls and everyday life situations. 9 of 10 lateral falls were detected and triggered the inflation of an airbag. There were only 1% unintended inflations.
*Robinovitch, Stephen & Hayes, Wilson & McMahon, T.A.. (1991). Prediction of Femoral Impact Forces in Falls on the Hip. Journal of biomechanical engineering. 113. 366-74. 10.1115/1.2895414.
**Virginia Tech – Development of an inflatable hip protection system: design for hip fracture prevention and increased compliance (2006)
How does Hip'Guard work?
Hip'Guard has a sophisticated electronic system paired with a powerful algorithm and sensors which measure and analyze the motion, orientation, speed, and accelerations 1000 times par sec.
When a lateral fall is detected, an airbag is automatically inflated around the hip on the side of the fall in less than 80 ms, for an optimal protection at impact.
Is Hip'Guard belt showerproof, can it be washed or cleaned?
The belt is made of water-resistant material which can be cleaned with a disinfectant spray and wiped down. However, it contains electronics and thus cannot be washed or be used while showering.
Hip'Guard comes with a removable cover which can be washed at 30°C.
We advise you to keep the cover on the belt when using Hip'Guard to ensure maximum flexibility in hygienic cleaning.
Can Hip'Guard be used for other activities?
Hip'Guard is designed for older adults, their motions, and their daily routine. It is also suitable for post-surgery rehabilitation activities and will protect people prone to fall because of neurodegenerative diseases like Parkinson's.
Hip'Guard is not designed to be used outside its target demographic or for sports activities.
Can Hip'Guard be worn during sleep?
Yes, Hip'Guard was specifically designed to be comfortable when sleeping and real-life tests in nursing home settings have confirmed that.
Can Hip'Guard be worn under clothes or concealed?
Yes, Hip'Guard can be worn under a large sweater or jacket that is not buttoned or tucked in. There must be sufficient space for the airbags to deploy in order to ensure protection against the impact.
Does Hip'Guard work in case of forward or backward falls in order to protect other body parts?
Hip'Guard is solely focused on protecting the hips. It will thus only inflate an airbag during lateral falls. Hip fractures are probably the most serious fractures that an elderly can have, as 1 in 4 four elderly die within the year which follows the fracture of a hip.
How long does the battery last?
Depending on the number of hours it is used per day, the battery lasts up to 7 days before it needs recharging. When the battery level is low, Hip'Guard will send regular visual and sound signals to inform the user that recharging is required.
Is there a risk of rebound after the fall?
Hip'Guard was designed to reduce any possible rebound to a negligible level. Indeed, the gas generator has a valve-like function.
Can Hip'Guard be used in conjunction with a gait assistance belt?
Yes that is possible.
Please only note that the gait assistance belt must not prevent the deployment of the Hip'Guard airbags.
Hip'Guard must not be used stand-alone as a gait assistance belt.
Is Hip'Guard reusable?
Absolutely. After a fall and the inflation of an airbag, you just have to rollback the airbag and replace the cartridge with a genuine Hip'Guard cartridge. We did our best to make the system as simple as possible and preparing and resetting Hip'Guard after an inflation does not require any specific skills. Follow and read carefully the user manual guide and watch the video tutorial to see each step in details. If you have difficulties doing that on your own, perhaps a care giver or family member can help you.
How long does the warranty last?
The device has a limited 2 years warranty.
Why is compliance with Hip'Guard important?
If a hip protector is not worn, it can obviously not protect the elderly.
Lack of compliance may be related to the fact that the users at home don't wear hip protectors to the same extent as in nursing homes, where users are under guidance and supervision all time. At home people with memory impairment might forget to wear the protectors.
Compliance issues can also be due to the fact that most conventional hip protectors affect appearance and tend to look bulky when worn.
This is why Hip'Guard was designed to be an attractive, discreet, and lightweight airbag belt.
YOU HAVEN'T FIND THE ANSWER TO YOUR QUESTION ?